SOP for MBA with Engineering Background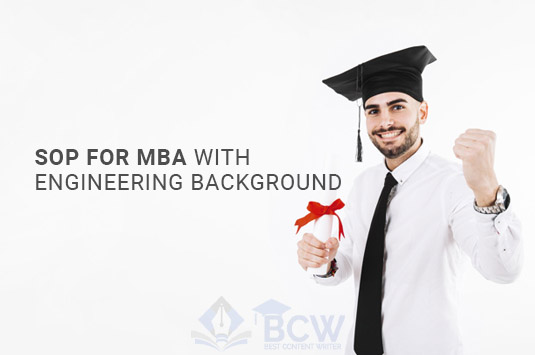 No matter what major you took for your engineering program, it is highly imperative that you develop adequate managerial skills and insights if you want to grow in your career to dynamic managerial and leadership positions. The trend of engineering graduates seeking admission to MBA programs has been going for a while.
As such, if you are one of the many freshers searching for an excellent SOP for MBA with engineering background, you are at the right place.
Over the years, we have seen a remarkable hike in the number of the students requesting SOP for MBA after engineering. We have served all of them with impeccable essays that sealed their berth at their favourite institutions. If you have any concerns like how to justify the change of the field since you are switching from engineering background to business administration, be assured that we will take care of that in the essay with reasonable explanation that is true to yourself.
We can offer you SOPs that are
Having written a range of SOPs for MBA for freshers with engineering background, we can just help you with that, and more.
There is no doubt that the competition among engineering graduates to build effective careers with venerated companies is extremely high.
One of the major reasons that many fresh engineering graduates find it difficult to secure placement is their lack of managerial, communication and decision-skills, in spite of being exceptional engineers.
If you find yourself in such a situation and are planning to pursue MBA, let us help you with the perfect SOP for MBA for fresher with engineering background.
How can we help you with our SOP for MBA for Freshers with Engineering Background?
BCW has long been on the forefront of providing carefully written and custom-developed statements of purposes for our clients no matter what niche they come from.
We have worked hard creating exceptional SOPs for MBA for freshers with engineering
backgrounds that are;
Over the course of the decade-long SOP writing experience that we are proud of, we have written SOP for MBA with engineering background for freshers as well as working executives to such countries as
Looking for the best SOP writing services?
BCW has been amongst the forerunners in content writing industry for several years now. Our services are vouched for professionalism, quality and precision. We have a dedicated and experienced team, who are highly passionate about the work we do and always committed to deliver impeccable contents to our clients.
If you want to know about our SOP writing services, then leave your message here and we will contact you back.
We have conducted comprehensive studies about the selection criteria of universities for choosing candidates to their MBA program. For this, we sampled authentic data from hundreds of colleges and universities in different countries. We gave particular attention to understand how institutes assess the SOPs that shows field change, for instance the interest to do MBA after graduation in engineering. When a student approaches us for his statement of purpose for MBA after engineering, we understand his reasons for the field change and customize their essay as per the institute's expectation. Consequently, our SOPs always turn out to be winning in the admission process. 
Our exceptional SOPs for MBA have helped our students to get admission to such venerated universities in the world as;
University of Canada West
Dublin Business School
University of Central Lancashire
Indian Business School
Western Sydney University
Berlin School of Business
Western Institute of Technology
Warwick University
University of Texas, Dallas
While these are only a tip of the iceberg, there are numerous universities we have helped creating SOPs for MBA for freshers with engineering background.
As such, if you are in need of an excellent SOP for MBA with engineering background, we can help you no matter how stringent your requirements and specifications may be.
Why we are the best in the industry for SOP for MBA with engineering background
Fresher or not, our clients can rely on our SOP writing services to get the best and most effectively written SOPS for MBA.
In our professional escapades that included writing custom statement of purposes for MBA for freshers and experienced candidates having engineering background, we worked hard to create assertive and engaging;
SOP is a document that is read carefully and therefore it's important to give attention to the details. If you have had any professional stint after your engineering background, you must write about that in the essay. Similarly, your academic achievements and exposure in the domain of business administration must be emphasized in the SOP for MBA with engineering background fresher.
SOP for MBA with civil engineering background
SOP for MBA with electrical engineering background
SOP for MBA with electronics and telecommunications background
SOP for MBA with mechanical engineering background
SOP for MBA with computer science background
You can find the sample SOP for MBA with engineering background on our website and evaluate the same to see if we walk our talks.
If you are wondering what makes us deliver such impeccable SOPs that are successful, let explain to you that growing to such a stature wasn't an easy task. In our professional escapades, we have kept our emphasis solely on our clients and their requirements to always offer the best services that we can.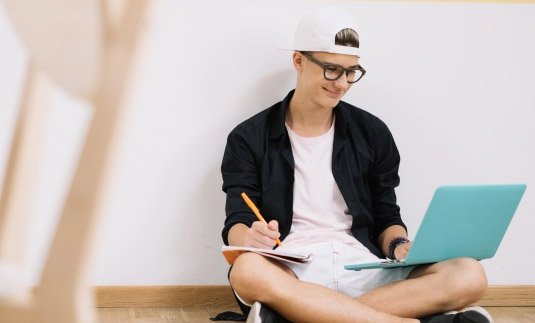 In our efforts to do so, we have been immensely helped by the following unique service deliverance traits of ours;
Our uncompromised attention to the quality and the content of the SOP
Our expertise in the field of writing hundreds of SOPs for our clients
A team of highly skilled, experienced and qualified professionals
Our flexibility to offer custom-developed SOPs for our clients
Multiple service plans and highly economical ratings
An affable and professional customer support team looking to help client
We combined each of these unique elements to ensure that each SOP for MBA that we develop for freshers and executives with engineering background to create successful SOPs that bhelped our clients secure admission to their dream universities.
You can download the statement of purpose for MBA with engineering background PDF to review them yourself and see if that's worth paying your hard-earned money for.
Hire us to get the best SOP for MBA with engineering background, now
If you want to secure admission to a venerated university or business school of international stature, you must have unique, exceptional and remarkable SOP that can assert that you have what it takes to become an excellent MBA professional even with an engineering program.
As such, we can assure to offer top-notch SOPs for MBA with engineering background that are;
Reviewed multiple times
Engaging and uniqueDrafted from the very first word
Created with an excellent tone
Well-structured and formatted
Plagiarism-free and Copyscape approved
You can find the sample SOP for MBA with engineering background on our website and evaluate the same to see if we walk our talks.
If you are satisfied with the sample, you can place order for your SOP for MBA after engineering with us. Once the first draft is ready, we will send it over to you for reviewing. You can go through the same and give your feedback. We will move to the finalising phase of the work only after that. 
Hire the best content writing service provider in the industry, BCW. We offer impressive contents, perfectly tailor made according to your need and purpose. For more details, please connect with our client help desk now.
Your SOP should answer certain questions that the admission officer at the institute you are applying to want to know. They want to know why you are doing MBA after completing mechanical engineering. Also, they may want to know whether you have the aptitude and skills to switch to a different field like business administration. You must not forget to speak about your relevant experiences, what you will do after completing the MBA, what your future dreams and goals are etc. All these are relevant points to discuss in your SOP. We have previously written sop samples for mba after engineering that may help you identify the areas to talk in the essay.
Sealing birth at top institutes is the reason for most students to write an SOP. Institutes follow strict rules when they assess the SOP of their applicants. If your SOP is found with grave issues like plagiarism or mistakes (grammar, spelling, structure), it will be rejected instantly. Similarly, you must not include any information that is irrelevant to your SOP. Many students, despite their good command over English and writing skills, end up getting their application rejected due to irrelevant or unformatted SOP. So, it is always good to seek professional support for your sop for mba after engineering. 
Whether you are in need of a sop for mba with engineering background fresher or experienced, it is important to talk about the reasons for your transition. A lot of students take this for granted and write unconvincing points. If you want your SOP to look good and convincing, you must talk your heart out. Be true to yourself. Perhaps you have realized that you are more inclined to business management than mechanical engineering or you may have realized the lucrative sides of improving your managerial and leadership skills through MBA. Whatever your thoughts and reasons are, write them in an engaging tone. If you succeed in emotionally connecting to the admission panel member, you have higher chances of securing the admission.