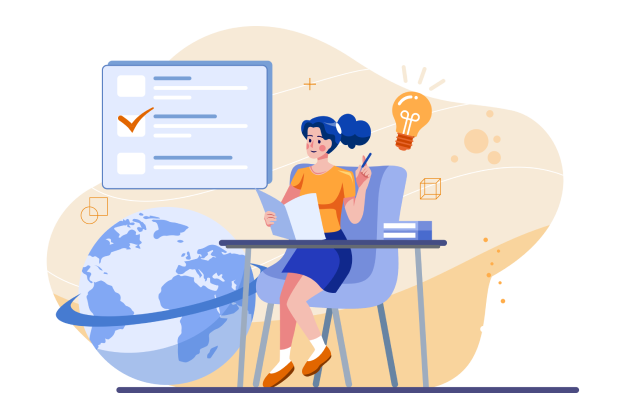 Are you looking to draft an impressive SOP for your PhD but cannot come with an SOP that impresses you?
Do not fret for BCW can help you with all the help you need.
BCW has associated with a bevy of PhD aspirants in numerous academic disciplines and worked with them closely creating exceptional statement of purposes for their PhD.
Not only that, you can find the best samples for PhD SOP with us as we have written a wide range of SOPs for PhD that secured admission for our clients effortlessly.
Why Should You Get the PhD SOP Samples from BCW?
It helps you understand the quality of the SOP written by us
It helps you understand how you must write your SOP your own
While these two reasons are worthy enough for the way you choose to get your SOP, it is important that you give your best short while drafting your SOP for PhD. Since you will potentially be competing with numerous candidates from across the world, it is only befitting that you get your SOP for PhD written from an experienced place.
In that case, you have gotten to the right place.
An experienced and reliable PhD SOP writing company, BCW has helped numerous students secure their admission from some of the most respected academic institutes from around the world for their PhD aspirations.
Compared to other types of statement of purpose, the PhD SOP is relatively different and more challenging to write. It covers one's academic and professional achievements in detail, written in much sophisticated tone. By following an appropriate SOP format, one has to ensure that the flow of the contents is smooth and engaging. Given to the serious nature of the PhD SOP, one cannot afford to make mistakes in this and it is essential to review it several times before submission. By hiring BCW, you don't have to worry about all these things. We can craft a good and impactful PhD Sop that captures the attention of the admission officer instantly. For further details about our content writing services, contact us here.
  PhD in Materials Science and Engineering
Rowan University, USA
Ever been inspired to contribute to science and research due to my inquisitive trait of seeking answers to baffling questions, I wish to take my understanding of the chemical structures of different materials to a different plane and add strength to the innovative technological developments happening in diverse industries. As the present world is teeming with novel gadgets and devices, the challenge to create them most efficiently has warranted the rising demand for improved materials. The field of materials science and engineering would push me to the creative front, and in my vision to be at the forefront of exciting discoveries, I gauged that pursuing a PhD program in Materials Science and Engineering at Rowan University would be advantageous.
Having acquired strong analytical skills and logical thinking abilities since my schooling, my propensity towards the subjects of mathematics and physics has enabled me to complete both my Bachelor's and master's degrees in the field of physics. My undergraduate journey at Miranda House College enabled me to fathom the wonderful aspects of modern science and I pondered over the prospects of utilizing the concepts of quantum mechanics, atomic and molecular physics, advanced electronics, advanced solid state physics, electronic devices etc in everyday reality to improve the effectiveness of human work. My unending passion for physics was reflected in my participation in physics society and summer training in Experimental Physics 2014. This platform rendered me an opportunity to venture out of classroom thinking, which provided an insight into the areas of nuclear physics and materials science.
Further, the master's degree marked the culmination of gaining extended knowledge and propelled me towards the path of invention and innovation. While I supplemented my knowledge base with the underlying principles and properties of semiconductors, superconductors and magnetic materials as well as understood the application of piezoelectric and pyroelectric materials, my unquenchable thirst for analysing their practicality swept me off the ground to explore in-depth. With the research experience of leading a project of fabricating a conical pendulum using stepper motor and microprocessor programming during my Bachelor's degree, I decided to fuel my interests in materials science by undertaking a project on 'Giant enhancement in ferroelectric polarization under illumination.'
Realizing the importance of data science in research and analysis, I invested considerable amount of time acquiring technical skills in the field during the covid pandemic. I completed a course on 'Python for Data
Science' followed by an 8 month internship at EXL Services India. During my training, I had the opportunity to be a part of the projects 'Customer Segmentation/Acquisition' and 'Estimation of Commission Payouts'. My responsibilities included data collection, processing, and transformation, model development and tuning, data visualisation for leadership to comprehend and formulate strategies, model evaluation, and accuracy improvisation. I am confident that this exposure would greatly benefit my future research projects.
My desire to pursue research stemmed from these academic exposures and with the overarching importance of functional polymer materials in adding momentum to bettering the lives of individuals through technology, I aim to concentrate on the area of soft condensed matter. With the different properties they exhibit at the mesoscopic and macroscopic scale, I intend to discern the relationship of mesoscopic length scales in deciding the macroscopic properties through the PhD program at Rowan University. While pursuing my master's I had come across the research papers "Effective interactions in soft condensed matter" and "Introduction to molecular dynamics simulations: Applications in hard and soft condensed matter physics". These research works had greatly fascinated me and through further investigations, I was able to learn about soft condensed matter in detail. Through my studies I was able to grab a firm hold of topics like mesoscopic modelling, dissipative particle dynamics, hydrodynamics of star polymers and so on. I am sure that pursuing the PhD program from Rowan University will allow me to expand my spectrum of knowledge in soft condensed matter and my research will certainly produce applicable results.
The PhD program offered by Rowan University is dynamic and has an optimal blend of theoretical perspectives and research oriented approach. I am aware that as a PhD scholar, I will have to complete 72 hours of coursework, research credits and a dissertation thesis. Furthermore, I will be able to learn in detail about Kinetics of Materials, Structure, Symmetry and Properties of Materials, and Experimental Techniques in Materials Science and Engineering. The curriculum has a transdisciplinary framework that allows students to explore and realise their research goals in a variety of ways, from foundational theoretical study through practical device fabrication to sophisticated industrial processes. The opportunity to take up research under established faculty members like Tabbetha Dobbins, PhD and Vince Beachely, PhD is highly valuable. I was amazed by Prof. Dobbins' recent research work 'Quasi-Elastic Neutron Scattering Studies of Hydrogen Dynamics for Nanoconfined NaAlH4'.
Rowan University is an educational leader in modern academics. The institution is placed at 187 th position according to the National University Ranking- US News & World Report 2021. Moreover, Rowan University has a history that dates back to 1923. The institution offers
advanced research laboratories and other research facilities like Center for Research and Education. This impressive research infrastructure is one of the major reasons for selecting Rowan University. The university also offers various career services and student support initiatives. The Department of Material Science and Engineering is one of the best in the country and the quality of faculty is an added advantage. Honestly, I cannot think of a better institution than Rowan to pursue my PhD.
The United States of America has the world's largest academic community. Many international students seek to study in the United States for a variety of reasons, including high academic standards, a unique curriculum, a global perspective, and countless career opportunities. Many of the top schools in the world are located in the United States, and many of them consistently rank high in worldwide university rankings. Universities in the United States are also known for having high educational standards, strong quality-control methods, and a flexible educational structure.
After completing my PhD, I intend to work for the R&D department of major manufacturing companies in the US. I am confident that my research in soft condensed matter will be a groundbreaking one and will have a lot of practical applications. In the long run, I see myself undertaking more research in the field of material science. I firmly believe that the PhD from Rowan University will the cornerstone of my successful future career.
We constantly rely on the following traits of our service deliverance to churn out the best SOPs for PhD for our clients:
Planning to choose Ireland as your study destination, but confused about how Ireland education will help you? Then read the below mentioned advantages of studying in Ireland.
Our commitment to quality: In no situation do we resort to offering sub-quality SOPs for any candidate. No matter how stringent or extensive your requirements may be, we always rely on the most effective quality assurance systems and methods prevailing in the industry. This ensures that we can provide you with the best SOPs for PhD.
Our years of experience in the domain: We have more than a decade's experience in the domain and it has been providing us with impeccable and invaluable insights in the field. We leverage these insights and exposure in the field that we acquire with each project to deliver the next SOP for PhD even more impressive and better.
Our team of talented writers and editors: We can confidently say that we have one of the best and most experienced teams in the industry. This ensures that the clients' academic and professional achievements and aspirations are expressed in the best possible ways creating an impeccable SOP for PhD that can easily astound the selection committee.
Our promise to offer affordable propositions: Since most of the clients that we have are aspiring professionals with diverse requirements, we have kept our services always affordable to each and everyone. Since there are multiple service propositions, clients can choose the most fitting one as per their needs.
Our professional, yet amicable customer service: We like to keep our clients in the loop about the services that we offer; the status of the project; and to get the details we need. We also are always available to resolve all the concerns that a client might have when getting their SOPs for PhD written from us.
We are sure that if you look at the PhD samples we have written over the years, you will understand why we are one of the best in the business offering exceptional SOPs for PhD.
What makes the PhD SOP samples, sop mba samples from BCW superior?
Along with the unique service traits that we have made a part of our service propositions, we work hard relentlessly during the execution of the project to make each SOP for PhD we write the best and provide the most valuable impression about the aspirant's capabilities, personality traits, career aspirations and others.
This ensures that you will always have a winning SOP for PhD in your hand that will also be better than the Sample PhD SOP you found on the web.
In addition, the following attributes of the services we deliver always ensure that the clients get the maximum value for the investments they make with BCW to get the best, impressive and professionally written SOPs for PhD.
Each SOP for PhD that we write is:
Originally written and is unique to the client demanding it
Developed based on the inputs and insights gathered from the clients
Well-formatted to create the best impressions at the hand of the admission committee
Edited multiple times by the editors and proof-read
Ensured to have a narrative progression through all the ideas presented
Well researched and incorporated with suitable, impressive vocabulary
Evaluated through Copyscape for maximum uniqueness
Hire the Best PhD SOP Sample from BCW
If you are an aspiring candidate looking to pursue your PhD from a venerated institute from a foreign country and want the best SOP for PhD that can impress and surprise the admission committee, you are at the right place.
Ever since we started operating in the domain, we have associated with various aspiring PhD candidates and helped them with exceptional SOPs for PhD even better than the PhD sample SOPs they have approached us with.
If you need any guidance to obtain an impressive PhD SOP, hire BCW's content writing services. To know more about the services and discuss your needs with our client support team, reach out to us now.