SOP for Canada Study Visa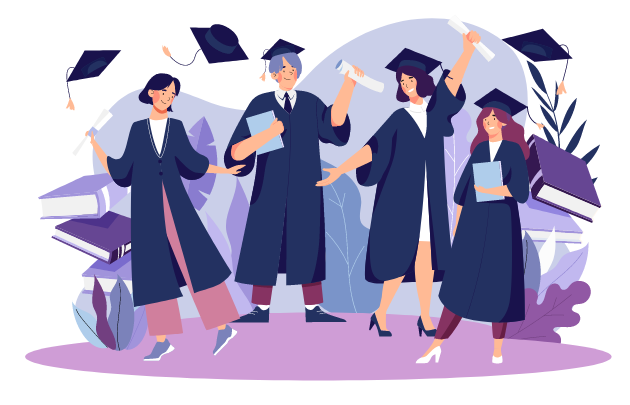 Canada is one of the best study destinations due to the quality of education and academic excellence offered. Graduating from Canada can boost your career prospects. To study in Canada, admission from university is not enough, getting a visa also matters. Here is the full detailed information about SOP for Canada Student Visa.
What is SOP for Canada Student Visa?
SOP for Canada Student Visa is an application submitted by the students to the Canadian Embassy in their country explaining their passion for the course and choice of Canada as the study destination.
Sample SOP for Canada Student Visa
Looking through some samples can make your understanding better. Here is a sample of SOP for Canada Student Visa. We hope now you have an idea about how to write a perfect SOP for Canada Student Visa.
To
The Visa Officials,
Canadian High Commission,
India.
Respected Officials,
Subject: Study Permit Application
Greetings of the day to you! I take great pleasure in introducing myself to you as ABC, and I have been enrolled at Fleming College for the May 2022 intake.
Mechanical Engineering is among the most interesting subjects one could come across as it is extensively application-oriented. I have been someone who is fascinated with machines and their mechanics since a young age, and growing up I pursued it actively through complex areas of study. I would also attribute my interests to have come from my family which consists of my father, a civil engineer, my mother, a lecturer in commerce,  and my sibling who is pursuing a bachelor's in science. Their collaborative efforts made me appreciative of the sciences and I became a zealous learner performing exceptionally throughout my academics.
I attended my secondary, high school, and undergraduate at reputed institutions across South India, and this played a pivotal role in empowering me in the domain. I had the opportunity to interact and learn under some of the brilliant minds of the country, and particularly in my BE Mechanical Engineering course, I networked with several leading industrialists.
Enacting multiple roles and responsibilities within the campus, I was an all-rounder who weighed equal importance to academics and co-curricular. I was a part of several national and international edutainment-based events and competitions, where I dived into several core concepts of mechanical engineering and put it all into practice. Added along with my capacity to manage teams and lead them effectively, I brought accolades and recognition to the institution I attended.
It also struck me that I had it in me to conduct team projects fluently and supervise them with just as much enthusiasm as being a part of it. And as much of a team player I am, I could also handle projects with my focus and as a result, I could design and create the prototypes of dual braking systems within the traditional motorbike models and a motorcycle Chassis. Refining my technical capacities alongside, I became growingly familiar with AutoCAD, Primavera, Solid works, MAT lab, and so on. Interning as a planning engineer at several project sites of Nuclear Power Projects, I undertook a ton of responsibilities that further emphasized my managerial capacities. Taking the cue, I decided to venture into the subject of Project Management and completed an online certificate course in it to provide myself with a firm grounding on the topic.
This intrigued me more than the mechanical counterpart of the subject and from there on I had a lot more clarity on the path that I wanted to traverse. Opting for the project management course, I was able to relate to the curriculum and was rather impressed by their experiential format of teaching. This is a commonly seen practice in Canadian Universities as they follow a co-op policy that introduces the students to the professional space of work that bases itself on the theoretical foundation of the subject study. Many Indian universities lack this career-focused approach, which is why I travel to a country abroad that would familiarize me with the global market space with relevant experience.
The University's location connecting the major cities of Toronto and Ottawa would also pave the way for me to observe and interact with the multinational companies that successfully put their ideas out there through efficient project management. I am positive that the education at Fleming College would mold me advantageously as an asset to the organizations back in India that I would be a part of. I would proactively pursue this aspiration and soon after I graduate from Fleming, I would opt for professional certifications such as CAPM, CPM, PPM, and PMP that would qualify me as a professionally certified project manager in India.
It is my roots that I would like to base my knowledge and services on, and I hope to convey to you through this statement that I only intend to stay in Canada as per the stated period in the acceptance letter. My family would be supporting me financially to meet my tuition and living expenses in Canada, and so I do not want to burden them beyond the point of stay. I would return home with international credentials and look for a promising opportunity as a project manager while staying with my family in India.
Moreover, the fact that project management is a subject that can be done justice only through a personalized touch makes me want to test my prowess in it within my land as it is a lot more familiar to me and I connect better with the people back there. So please be assured of my return post-graduation. Hopefully, you would be convinced of my qualifications and intent of travel and approve my student visa to travel to Canada.
Thank you,
ABC.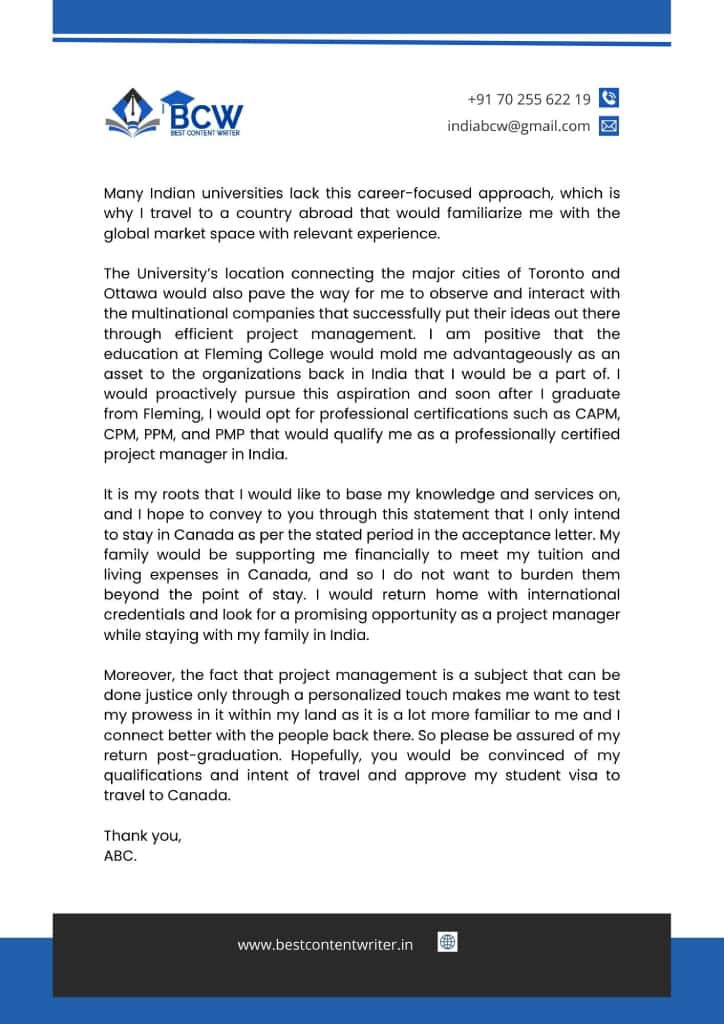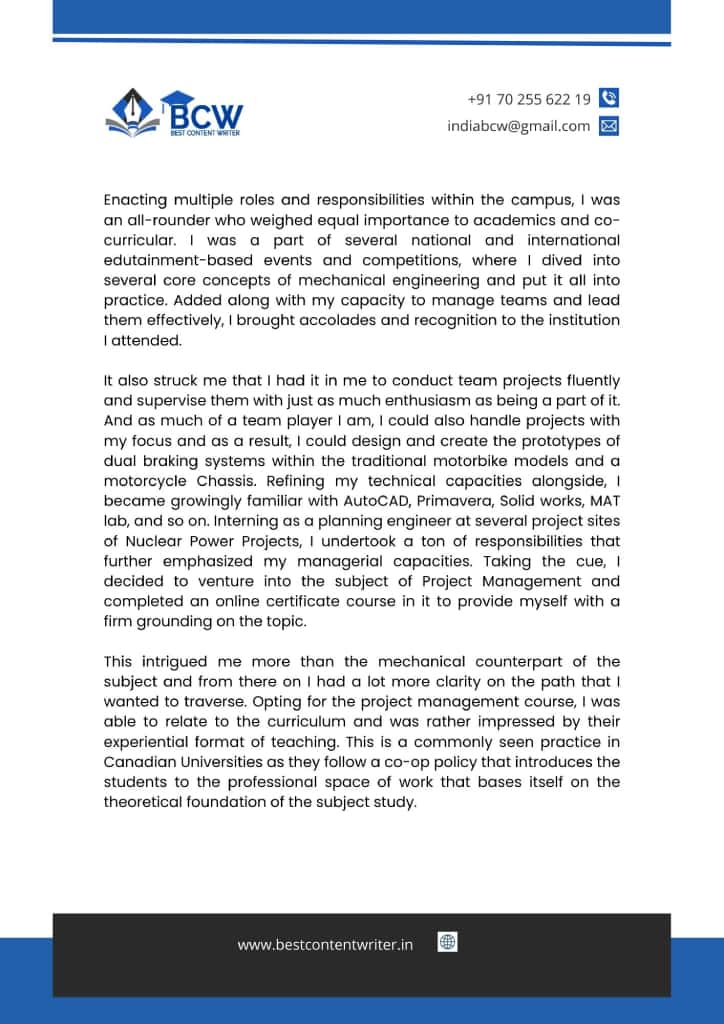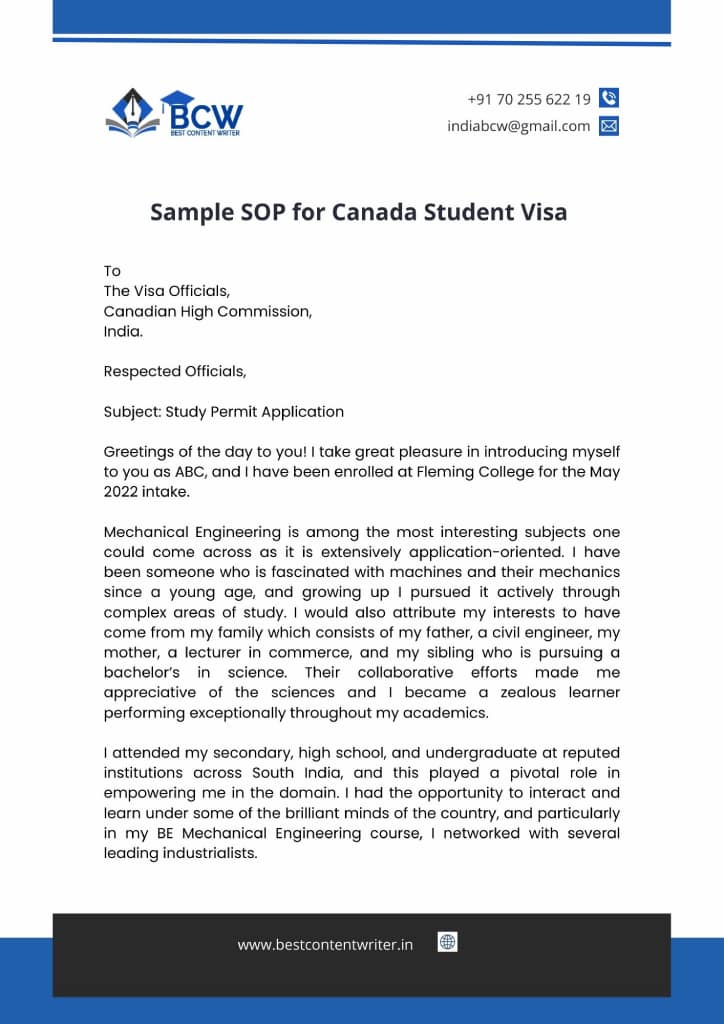 Importance of SOPs to Study in Canada
A Statement of Purpose for Student Visa is an important element in your plan to study in Canada as it :
Increases the chance of your visa approval
Help to secure your admission at the university
Help to showcase your passion for the subject
Give a chance to explain your choice of Canada as a study destination
Help to explain how the study program can benefit you
Is your trump card to explain how you are a good candidate and how you can be an asset to Canada.
Courses For Which SOPs Are Needed
An SOP is a vital element to get admitted to a university and get a study visa to Canada. Here is the list of courses for which an SOP is compulsory to get admitted to the university.
* MS/ MSc (Master of Science)/ Bachelor's Degree in Science, Law etc
* MBA (Master of Business Administration)/ BBA
* Fashion Technology
* MIS (Master in Information Sciences)
* PhD/Research Doctoral Program
* Master in Computer Science with different specializations
* Bachelors/ Masters in BioTechnology
* MS in Systems Engineering
* MS in Production Engineering
* MS in Engineering Management
* MS in Digital Media/ Digital Marketing
* Interdisciplinary Master's in Art, Media and Design/ Master's in Design
* MS in Architecture
* Advanced Diploma in International Hotel Management
* MS in Physical & Earth Sciences and Renewable Energy
* MS in Agricultural Science & Forestry
* MS in Biosciences, Medicine & Healthcare
* MS in Media & Journalism
* MS in Cyber Security
* MS in Information Systems
* MS in Physics & Astronomy
* MS in Medical Physics & Nanotechnology
* MS in Geoscience & Oceanography
* MS in Oil & Petroleum Engineering
* MS in Mining/ Geology/Geo-informatics
* MS in Renewable Energy
* MS in Pharmacy/ Nursing
* Hotel Management/ Hospitality Management
How is a Statement of Purpose for a Canadian Student Visa different from Other Countries?
Statement of Purpose for Canadian Student Visa application is different from other countries. Since the immigration laws are very strict, you must pay special attention when you draft your SOP for Canadian Student Visa. Don't forget to explain explicitly that your visit is just for study purposes and that you don't intend to stay in the country for long. The normal SOP length for Student Visa for Canada is 1000-1500, try to stick to the word limit. You must give evidence of your financial stability and must ensure that you can meet all the financial requirements. Getting a student visa from Canada is a difficult task, so pay attention to every detail.
What is SOP For Canada Study Visa After Refusal?
If your student visa application for Canada gets rejected, then you should be more careful when you draft your 2nd copy.
SOP for Canada Study Visa after refusal must address the reasons given by the Visa Officer for rejection
Give special focus to all those concerns mentioned as the reasons for visa application rejection
Elaborate future career plans and incentives to return to India
State clearly that the visit is only for study purpose
What is Sop For Canada Study Visa After 12th?
If you wish to pursue your undergraduation from Canada, then your SOP for Canada Study Visa must be crafted detailing why you choose to fly abroad rather than staying in the home country to pursue your bachelor's degree.
Since you don't have any work experience, highlight your academic capabilities.
Give a strong reason for your choice of Canada as a study destination.
Explain clearly why you didn't choose your home country when it comes to college education.
Sop Samples For Canada Study Visa After 12th
Most of you would want to complete your under-graduation studies in Canada after completing 12th or intermediate to get a feel of the international academic ambience. This will help you seamlessly adapt to the rigors and climate of Canada when you choose to pursue post-graduation or doctoral studies. Our samples will guide you on how to write SOP for Canada student visa after 12th.
Remember that your visa SOP is a vital document on which your entire career is pivoted. If you fail to get your application through in the first attempt, you run the risk of losing one year of your academic life. Also, you will be compelled to take admission in Indian institution and your dreams would be shattered.
Is it worth to take such a risk by choosing not to seek professional assistance of BCW? No. Our team of ace and experienced writers would help you create the best SOP for Canada study visa.
SOP for Canada Study Visa
What is SOP for Canada student visa? In plain terms, it is a blueprint of your aspirations which is presented to the visa officer for his consent. If you succeed to impress and convince him, your future course will be on safe track. If you go through the sample SOP for Canada study permit, you will find that the warmth of feelings of student getting reflected through words.
Sample of SOP for Canada study visawill guide you about the format of SOP for Canada study visaand the essential components which you must include. You need to succinctly present information about your personal, familial, and academic backgrounds. Your aspirations should get mirrored through strong and emotive words which no one can deny. For this, BCW's writers would be your best friend.
Important Tips for Writing an SOP for Canada
Here are some tips to help you draft your compelling Canadian Visa SOP:
Always start early
Showcase your best academic attributes
Use good language
Always proofread
Seek feedback
Give special focus to your reason for the choice of Canada
Be honest
Writing SOP for Canada Study Visa is an important part of your study plan to study in Canada. Since the immigration law of Canada is very strict, care must be taken to avoid each mistake. We have discussed all the important points regarding writing an SOP for Canada Study Visa. Hope you found these points useful. Reach out to us if you have any queries.