Posted by admin_bcw
On August 17, 2020
Personal Statement Examples for University
When it comes to your career, you should never compromise on the preparation process to make it successful. For instance, one needs to be aware of the nitty-gritties of the admission procedures and what needs to be done to pass through it effectively. Submitting a personal statement is quite essential these days, along with other important documents while applying for a graduate course. Especially, if one is seeking admission in a university abroad, the statement should strictly adhere to the global standards. BCW is here with some impressive personal statement examples for university, by going through which you will be inspired and get good picture as how to write your own statement.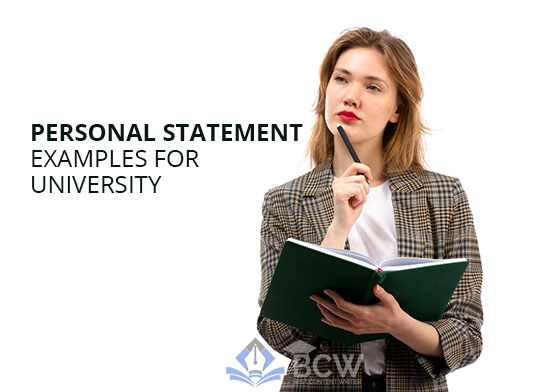 Benefits of BCW personal statement examples for university
BCW has been in the content writing business for several years now. Following it,we have gained robust expertise and experience to handle any kind of admission documents and other academic letters. With the right kind of resources and networking, we have been successful in writing winning stories for our clients in securing admissions in leading universities across the world.
We are backed with a strong, talented team of writers, content editors and proof-readers who are the main force behind the inspirational personal statement examples for university given here in this article. The samples will give you a detailed insight about a personal statement, how it should be written and what are the things to be included in it. Also, they will help you get enough ideas to write a statement of your own.
While you may have come across many other materials on writing a personal statement, we vouch that our personal statement examples for university are far different and effective from the rest. For, BCW thoroughly understand the norms of universities in different countries and requirements of varies graduate programs and fields. Such that, a personal statement for UK-based College will be different from one that is in Australia. Similarly, a personal statement for computer science will be different from medicine course. And same applies between graduate course and for research purpose. Thus, it is important to first understand where your interest lies, which part of the world you want to study and which industry category your course belongs to?
The main purpose of a personal statement is to showcase the admission officers your worth and why you have chosen a particular course. By stating your educational background, abilities, skills, motivations, achievements and experiences, you prove that all these are in line with the course you are applying for. You have to write in a compelling and clear manner in order to impress the selection committee and influence them with your statement to give you admission.
While many will find it perplexing to write of their own, the personal statement examples for university will ease out that writing process and only help to write better. But take care that you don't entirely copy the content in them, lest you get rejected. How? Well, the admission officers are keen on reading genuine statements and not those written by professionals or copied from others. In fact, they want to judge an applicant through his writings, get to know him personally and check whether he is indeed eligible for giving admission. It is, therefore, important to spend considerable time and put in hard work to write a statement in your own words. Even if you are taking references from online samples or your friends' statements then you have to personalise it completely.
So as of now, get inspired with our exclusive set of personal statement examples for university here. BCW has been in this content writing profession for over a decade now. We have catered to thousands of individuals; including students, academicians and entrepreneurs among others, in fulfilling their varying content requirements according to their respective purposes.
Our comprehensive content writing services are vouched for quality and professionalism. We are known to provide innovative and effective solutions through our well-developed contents. For further assistance, get in touch with the BCW team…
Searching for a creative and professional content writer to develop a good personal statement? Allow us to assist you. Connect with us to know how our content writing services can drive away your writing blues.